Successful Slip & Fall Lawyer Representing Greenville Personal Injury Victims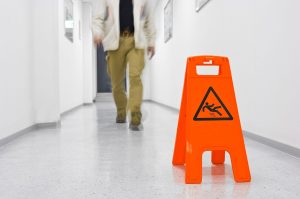 Did you get hurt after slipping and falling either at a commercial establishment or residence? Did the fall occur because of dangerous property conditions? If so, you are likely eligible to file a personal injury claim. All property owners, including homeowners and business owners, are legally responsible for maintaining a safe environment for any visitor or patron, even ones they don't anticipate. When they fail to do so or don't provide the proper warnings, injuries are bound to happen.
Common Slip & Fall Accidents
There are, of course, many conditions that could result in an injury, but some that we see frequently include injuries caused by:
Broken, sloping, or uneven flooring, steps, or ramps
Inadequate or unsecured railings
Exposed wiring or cords
Unmopped liquids (including grease and oil) or solids (such as out of place gravel or shards of glass)
Proving Your Case
In order to mount a successful slip and fall (sometimes referred to simply as premises liability) case, we must prove that your injury occurred as a result of dangerous conditions outside of your control. It is our burden to demonstrate one or more of the following:
You were acting reasonably in the environment, e.g. were simply walking though the store and not engaging in any unauthorized or dangerous activities
You could not have prevented the injury by adjusting your behavior, e.g. you could not have grabbed a handrail because there wasn't one present
The owner knew there was a hazard and did not take the proper steps to remove it or warn people about it
The owner did not know there was a hazard, but another reasonable person would have known and the owner cannot justify why it went unnoticed
Ronald S. Clement Attorney At Law has a proven record of securing compensation for Upstate region clients who have been injured in slip and fall accidents. If you have been injured, contact our Greenville office today at (864) 233-6225 to schedule a consultation with a trusted attorney.